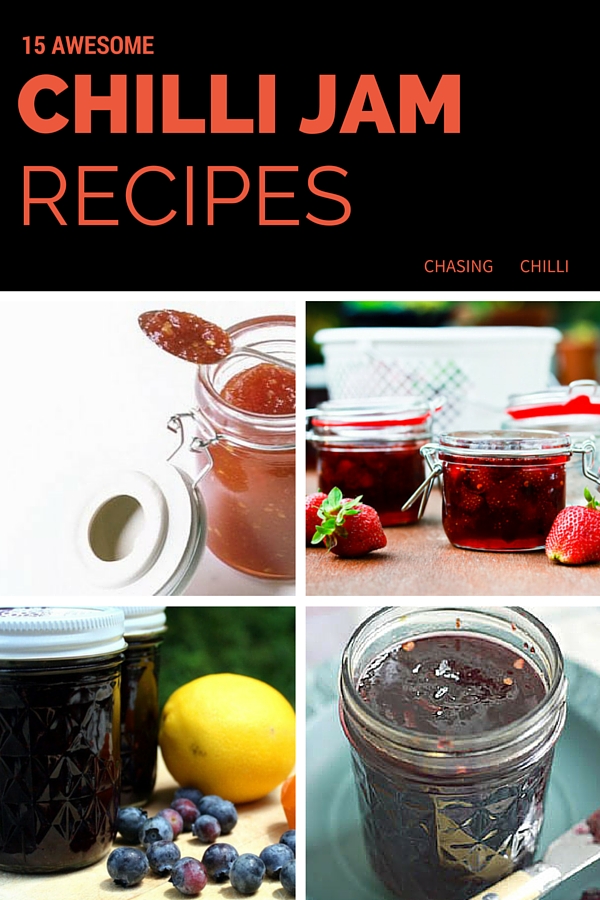 So you're looking to create the ultimate spicy jam? At first thought you may be thinking about how amazing your morning toast is with some sickly sweet strawberry jam. Now imagine feeling that "jalapeno burn" after a few seconds. Sounds amazing, right? A little crazy, but also really, really good. One bite and you'll be just as obsessed!
Here are our 15 FAVOURITE chilli jam recipes:
1.      Two Pepper Chili Jam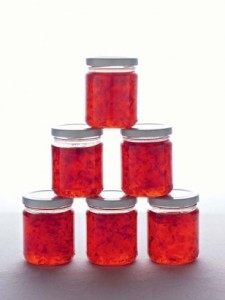 Nigella Lawson is known for making easy, tasty food, and this recipe is super simple. It only uses five ingredients. Make sure to read her advice on making jam sugar so you don't forget to buy powdered pectin!
Full recipe and instructions here.
2.      Sweet Chilli Jam
Sweet. Savory. Thick. Chunky. This jam is all those things, and it's not too hot. You may not be tempted to eat this on its own, but you won't leave any behind once you start smearing it on cheese and crackers. Use small jars to maximize your gift giving potential.
Full recipe and instructions here.
3.      Spicy Chili Jam
THIS is the chili jam to use for marinades and glazes! Hot, glossy, and sticky- as perfect for a whole roasted chicken as it is an entire pan of glazed carrots. You'll smell the peppers long before your first bite. This recipe includes great pictures and easy to follow directions.
Full recipe and instructions here.
4.      Raspberry Jalapeno Jam
Now we're talking! The inclusion of fruit tricks you into thinking this won't be spicy, but- depending on the pepper you choose- this jam could really light up your life. Feel free to substitute other peppers, like a Scotch bonnet or habanero, if you can't find a jalapeno spicy enough.
Full recipe and instructions here.
5.      Strawberry Chipotle Jam
I love this recipe because it is simple and the author has included lots of beautiful pictures, including step by step images. She also discusses how to alter the recipe, which is crucial for those of us who need to make ingredient substitutions. She also educates the reader about pectin.
Full recipe and instructions here.
6.      Strawberry and Chili Jam Candies
This fun recipe makes sweet and spicy candy, which is rolled in sugar and served the same day it's made. You can store it in leftover those Mason jars, and it uses up that bottle of Tabasco sauce we all seem to have in our cabinets. Make and eat today!
Full recipe and instructions here.
7.      Blueberry, Lemon, and Chile Jam
This recipe is a review of a previously posted recipe, and you will benefit from reading the original and the reviewer's notes. It includes more spices that the previous recipes I've listed, which makes the recipe truly unique among chili jam recipes. Make this recipe with fresh or frozen blueberries.
Full recipe and instructions here.
8.      Carrot and Chili Jam
Carrots and chilies are a natural pairing- sweet, spicy and savory enough to eat with meats and cheeses. This jam is not meant to be canned and stored. It's meant to be made and used the same day, and that's great. Make this jam to eat while making more jam!
Full recipe and instructions here.
9.      Ghost Pepper-Pear Jam
Yes, people- sometimes food hurts so good. This is not the right jam for everyone on your gift list, but your more adventurous friends will enjoy the stomach burn these peppers provide. And the sweet pears provide some balance to the chili heat. Some. You've been warned. Now, jam on.
Full recipe and instructions here.
10.  Sweet Chili Jam
This jam is more suited as a condiment and recipe ingredient than as a standalone jam. It includes garlic and fish sauce, so make sure to tell people to think twice before spreading it on a cookie for a midnight snack! Great pictures walk you through the whole cooking process.
Full recipe and instructions here.
11.  Black Grape Chili Jam
Grape jam has grown up. This recipe is sweet enough for a cone, but don't limit it to the lunchbox! Stir it into Greek yogurt and mix it with cream cheese for your holiday cheese platter. Or, heck- eat it with a spoon. I won't tell.
Full recipe and instructions here.
12. Chili Apricot Jam
By far the longest ingredient list, but don't skip this recipe. Pineapple, apricots, shallots and cumin all combine with the rest to make a jam that is suitable for many ethnic cuisines- Mexican, Caribbean, you name it. I dare you to find a bread that doesn't taste good with this jam.
Full recipe and instructions here.
13. Mango and Chili Jam
Chillies are so spicy that they pair naturally with tropical fruits. Mangoes, sweet and juicy, make great jellies on their own. But add chillies and blam- instant food nirvana! This jam's begging to be added to ice cream, yogurt… And banana bread. And donuts. And that's just the first jar!
Full recipe and instructions here.
14. Starfruit Pepper Jam
With the addition of honey, this jam will be thicker than most other jellies. This recipe is scaled to make one jar with a little extra for the cook to eat, so make sure to scale up correctly to get the number of jars you want to give- or keep.
Full recipe and instructions here.
15. Kiwi, Ginger, and Chili Jam
You never see kiwi jam recipes, and that's a real shame because it's just delicious. Imagine, then, how much joy you will get from eating this jam- hot, sweet, and spicy all at once!
Full recipe and instructions here.
Share your story
Have you made a spectacular chilli jam recipe? Share your story in the comments section below or follow Chasing Chilli's board Chilli Jam on Pinterest.