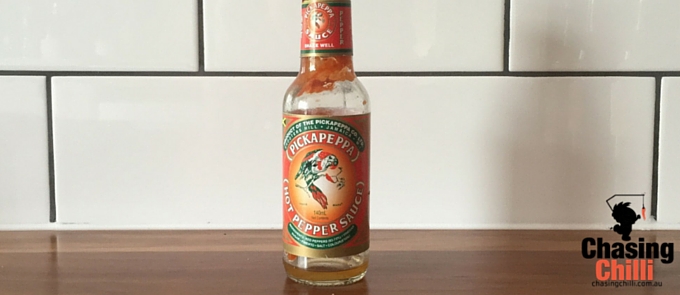 Pickapeppa Sauce was unbeknown to me but this historic (established 1921) Jamaican producer is sure to leave a it's mark with their hot red pepper sauce among the spiciest Chasing Chilli has come across.
Summary
Packaging:
At first glance the packaging may not look like much but the clear bottle lets the bright red sauce pop through, a back drop for the traditional Jamaican bird on the bottle.
Heat:
Pickapeppa's Hot Red Pepper Sauce packs a punch in just a few drops. This one isn't for the faint of heart.
Taste:
The sweetness of the sugar and strong peppery flavour from the Annatto are evident but it's 1-year aging process which really delivers. Pickapeppa's Hot Red Peppa Sauce flavour profile – much like a good whisky or wine – benefits from one-year within an oak barrel.
Ingredients
Red Peppers, Sugar, Cane Vinegar, Sea Salt, Annatto, Pimento
Where to buy:
Fireworks Foods (www.)
Tried this sauce? Let me know what you think in the comments.