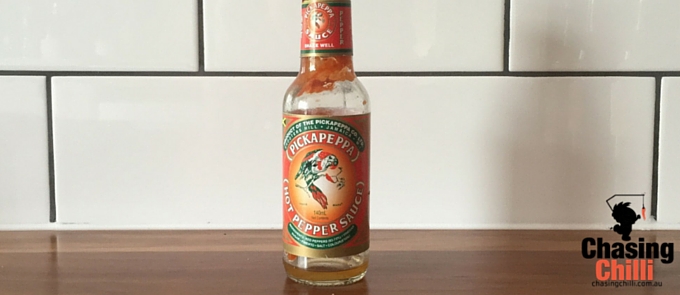 Pickapeppa Sauce was unbeknown to me but this historic (established 1921) Jamaican producer is sure to leave a it's mark with their hot red pepper sauce among the spiciest Chasing Chilli has come across.
Summary
PICKAPEPPA HOT RED PEPPER SAUCE REVIEW
Summary
It isn't very often that you come across a sauce which delivers on both heat and taste but Pickapeppa's Hot Red Pepper Sauce pucks a peppery punch. This is a perfect pairing for beef and barbecued meats and a must-have for hot sauce aficionados.
Packaging:
At first glance the packaging may not look like much but the clear bottle lets the bright red sauce pop through, a back drop for the traditional Jamaican bird on the bottle.
Heat:
Pickapeppa's Hot Red Pepper Sauce packs a punch in just a few drops. This one isn't for the faint of heart.
Taste:
The sweetness of the sugar and strong peppery flavour from the Annatto are evident but it's 1-year aging process which really delivers. Pickapeppa's Hot Red Peppa Sauce flavour profile – much like a good whisky or wine – benefits from one-year within an oak barrel.
Ingredients
Red Peppers, Sugar, Cane Vinegar, Sea Salt, Annatto, Pimento
Where to buy:
Fireworks Foods (www.)
Tried this sauce? Let me know what you think in the comments.