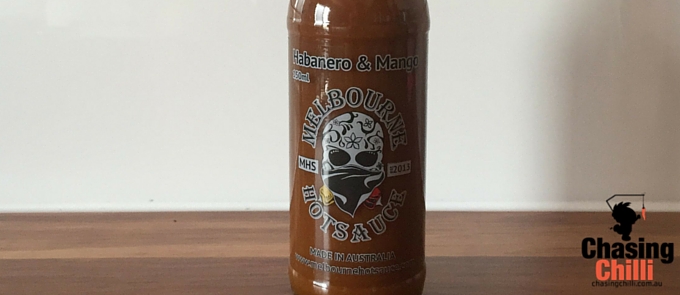 Relatively new to the scene (having only been established in January 2014) this St Kilda based producer is kicking goals with a first place and second place at Herb & Chilli Festival & North South Feast West respectively.
This time we're reviewing Melbourne Hot Sauce's bright orange baby – the Harbanero & Mango chilli sauce.
Summary
Packaging:
The sauce is the hero of the packaging with a clear bottle and transparent label letting the bright orange sauce and mango chunks shine.
Heat:
This Habanero & Mango sauce contains a trademark habanero burn. Like other sauces from Melbourne Hot Sauce the burn continues to grow throughout the meal without relief. The company labelled the sauce 3/3 and we tend to agree.
Taste:
Forget the all to common vinegar taste, the Melbourne Hot Sauce team know what they're doing with a sweet and citrus number which would add depth to almost any indian or mexican dish.
Ingredients
Habanero, Mango, Orange, Spices & Vinegar
Where to buy:
Melbourne Hot Sauce (www.)
Tried this sauce? Let me know what you think in the comments.