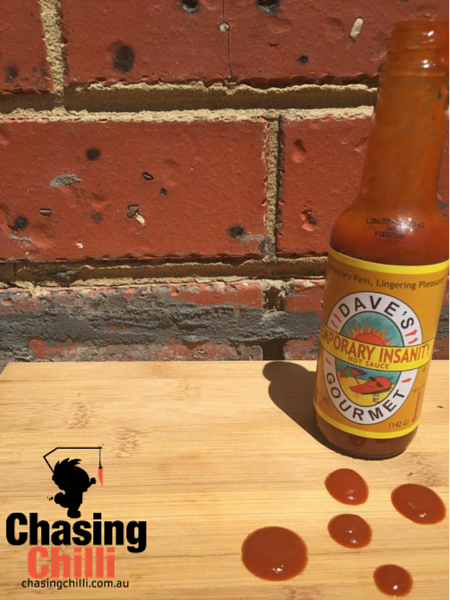 I'm a sucker for a wicked product name and Dave's Gourmet Temporary Insanity Hot Sauce piqued my interest. Dave's are known for their ridiculously hot (did someone say insane?) sauces, and the Temporary Insanity sauce packs some serious heat at a staggering 57,000 SHU (not for beginners).
Packaging:
The old-school hot sauce bottle design has some fun with the slogan 'temporary pain, lingering pleasure' – the bottle really just gets this sauce from A (the bottle) to B (my plate).
Heat:
The Temporary Insanity offering offers instant heat which won't leave you wondering. Even the smallest serving will make a grown man cry. At 57,000 SHU this hot sauce can double as an alternative to hydrofluoric acid.
Taste:
The instant burn felt as the sauce nears your lips strips away most of the flavour included in the sauce. With a fairly standard line up of peppers, vinegar, garlic and salt don't expect to be blown away by the taste.
Ingredients
Tomato sauce, onions, hot peppers, hot pepper extract, vinegar, spices, soy oil, garlic & salt.
Where to buy:
USA Foods (www.)
Tried this sauce? Let me know what you think in the comments.