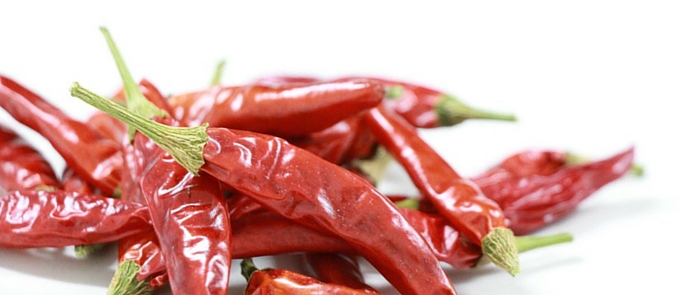 Chilli peppers are used in many different cuisines to add flavour or a bit of spice. It can be used fresh or to create condiments. The many uses of chilli peppers make it an easy decision to grow them in your home garden. However, since it's such an easy item to grow, you sometimes end up with an overabundance of peppers. That is why it is important to learn how to preserve peppers. By preserving peppers, you will be able to enjoy them all year long.
How To Preserve Chillies
There are four unique ways to preserve chillies so that they retain their flavour and heat. These include:
Chillies freeze reasonably well, retaining most of their flavour and heat. Freezing is the best way to preserve fleshier chillies like Scotch Bonnets and Habaneros. To freeze chillies whole, spread them out on a baking tray so they are not touching, freeze and pop into a sealed bag or container.
1.Drying Your Chillies
The most popular method of preserving chillies is to dry them. There are multiple ways you can dry peppers and different types of peppers are more conducive to the drying method. Experts say that the drying method works best for the waxier peppers but if dried properly it can work for almost any of them.
The easiest way to dry chillies is by using a dehydrator. This is what you'll want to use if you have peppers of the more fleshy variety, like habaneros. With that being said, if you don't have a dehydrator, another option when drying chillies is to lay them out in the sun, giving the peppers enough ventilation and warmth to achieve the proper consistency. Too much heat will make the pepper too brittle making it hard to work with and not enough ventilation will make your peppers too moist allowing mould to form, ruining your batch.
The best way to prepare your chilli peppers is to rinse them in salt water to prevent mould from forming and then use a drying method of your choice. Once the chillies are dried, the best storage method is in an airtight container either whole or use a coffee grinder to create chilli pepper.
2. Freezing Your Chillies
Freezing chilli peppers is another sure fire way to preserve the freshness and flavour of chillies. This is a way to keep an abundance of peppers without needing any extra tools for preservation. The simplest method is to clean your peppers in cool water, gently dry them with a cloth, and then store them in a Ziploc bag or container and put them in the freezer. A quick tip to remember is to freeze them before they get ripe.
A more creative way to freeze peppers is to slice or dice them and store them in whatever shapes or sizes you desire. Peppers generally don't keep their shape during the freezing process, so you may want to prep them in the size you desire.
You can even freeze store bought chilli peppers if you don't have the time or space to grow them. Remember that chilli peppers can develop mould quickly. When you do purchase and freeze chilli peppers, make sure to prepare them and store them in the freezer in small packs. You don't want to freeze too many in a package and then have them go bad. That would defeat the whole preservation process. Freeze in small containers and take them out as needed.
3. Pickling Your Chillies
Pickling is another method used to preserve your chilli peppers. You've seen the beautifully filled jars full of colour. Some say it's a form of art to get the perfectly pickled peppers situated in those jars. However, there is a method to all this pickling madness.
First, you will want to get creative in your ingredients. The best-pickled peppers are full of flavour. You can create different tastes just by adding a touch of spice or different types of vinegar. Mixing up different batches of your pickling formula can make your run of the mill chilli pepper exotic and unique.
The most basic way to pickle a pepper is to start by washing them in salty water. Once that is done, you'll set aside your peppers while you boil up some white wine mixed with cider vinegar and sugar. You can vary your pickling juice by adding different ingredients that fit with your taste buds. While your "juice" is boiling, you will want to poke holes in the top of the chillies so the taste will be even bolder within your pepper.
An important item for the pickling process is the jars. Make sure, once you fill the jars with the solution and chilli peppers, that you allow it to cool before sealing the jars. This is pertinent to make sure your peppers pickle properly. Once cooled, store the sealed jars in your refrigerator for at least two weeks before digging in and enjoying them.
4. Short Term Preservation
While the methods mentioned are excellent ways to preserve your chilli peppers for the long haul, a few methods will help keep your peppers from spoiling for a week or two.
Of course, you can just throw your peppers in your refrigerator as is and they will keep as other vegetables and fruits. This will give your chilli peppers about a week long life before they start to spoil.
You can also preserve your chilli peppers in olive oil, which will last for a week or two. With this method, you will want to clean and dry your peppers and then roast them in your broiler or on the grill until the skins are blackened. Make sure not to overcook them. At that point, you will skin them and cut them into strips. You will then put them in a clean, airtight jar. Cover your peppers in olive oil and tightly close the lid. You will then refrigerate them and have delicious chilli peppers for the next few weeks.
Whatever method you do choose, you will be enjoying the flavourful and spice of chilli peppers for weeks and months. Imagine all the dishes you can spice up with this savoury crop.